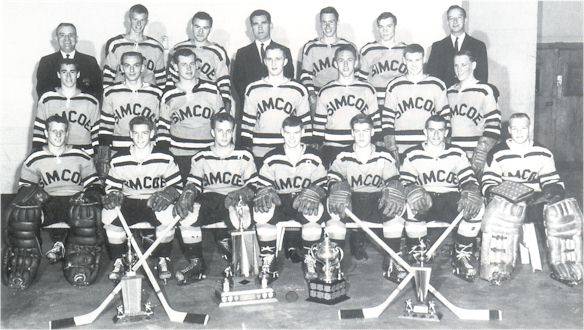 The thrill of victory over Lindsay in the OHA Junior C championship series will long be etched in the minds of the Simcoe Blades and their fans. Simcoe led the final series 3-0 but Lindsay took Game 4, winning 6-5 to send the teams back to Simcoe for Game 5. Trailing 3-2 at one point, the Blades stormed back to earn a 4-3 victory, winning the Junior C title before a packed arena in Simcoe.
Everything seemed to be going Simcoe's way when Bob Kowalsky opened the scoring for the Blades at 1:11 of the first period. Blaine Haslett made it 2-0 at the 7:37 mark. But Lindsay answered with two goals of their own and at the end of the first period the game was tied 2-all.
The second period featured lots of end-to-end action, but there was no scoring. Lindsay made it 3-2 at the 2:23 mark of the third period, but the Blades continued to apply pressure.
Wayne Neidrauer tied things up at 4:54 and Doug Macaulay scored the game-winner at 17:26, sending the packed house home in ecstasy.
The 1964-65 Simcoe Blades included Jim McInally, Jim Hill, Bill Allendar, Ken Walsh, Bill Preston, Wayne Neidrauer, Roy Powell, Doug Macaulay, Rick Boughner, Merv Minty, Don Haskins, Blaine Hazlett, Larry Torti, Gord Yuill, Bob Kowalsky, Gary Mitchell, John Forsyth, Dave Kett, Coach Fred Kenny, Manager Lawrence Adcock, Trainer Jim Wencel, and Stick Boy Joey Bomberry.
The Simcoe Blades were inducted into the Sports Hall of Recognition in 2000.
Original 2000 profile by Don Stewart.
Return to Teams Inducted at Sports Hall Induction Dinners page