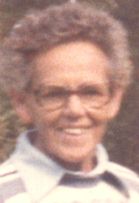 Ruth Pond made her mark in a number of sports. She won her first Turkey Point Golf Club ladies championship in 1978. By 1991 she had recorded nine more, including six consecutive. In 1999 at the tender age of 84, she shot a blistering round of 84 and played 27 holes in one day.
It was not just golf where Pond excelled. She was an outstanding fastball pitcher. In 1928-29 she was a stellar pitcher for the Simcoe Stars Ladies fastball team. In 1934 she pitched 27 innings in one day at the CNE and received a medal from the Governor General of Canada.
In 1928-29 Pond played on the Simcoe High School girls' hockey team and in 1933-34 she was the goalie that led a make-up team of local girls who defeated the reigning provincial champions from Preston.
She helped start the Simcoe Dinner Bowling League in 1959 and excelled in it for the next 40 years. When she wasn't participating in sports, she was eagerly watching others play and encouraging them.
Referring to her friend Ruth Pond, Madeline Hill wrote, "Ruth was a keen competitor and always played with a keen desire to win. She was very kind and considerate of everyone who played golf with her, be they good golfers or beginners with high handicaps."