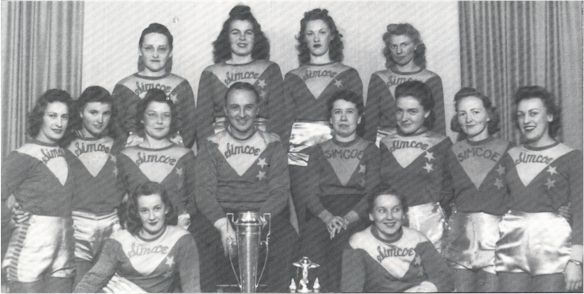 For three years during World War II, ladies' softball provided Simcoe's brightest athletic moments.
Businesses closed for the afternoon as residents congregated at Wellington Park to watch the Simcoe Stars march toward the town's first Ontario softball championship in 1941. "The crowds were huge. It was a real community effort," Elsie Griffin (McBride) remembered more than 50 years later.
After the championship win against Sudbury's Foamettes, fans drove the team around town on the fire truck, a tradition for Simcoe provincial champions. An awards banquet was held at Trinity Anglican Church. Admission tickets cost 75 cents.
Over the next two years, the Stars' stature grew as the squad knocked off Toronto teams to cap off a three-year championship run. The team played at the Canadian National Exhibition.
The team uniforms included shiny shorts and wool stockings. "The stockings made me sweat behind the knees, but they were great for sliding," Elsie recalled at the team's Hall of Recognition induction.
Elsie was one of four Brantford players who played for Simcoe. These players commuted between Brantford and Simcoe, and received cab fare home from the train station after dark.
The Simcoe Stars included coach and manager Orlin "Mike" Houser, Secretary-Treasurer Jean Houser, Captain Louise Chute, Muriel Wilkes, Ruth Cotton, Muriel Griffey, Rose Jenereaux, May McGhie (Kendrick), Jean Moyer, Elsie Griffin (McBride), Thelma Beemer, Margaret McPherson, Muriel Wylie, and Beatrice Crowley.
Return to Teams Inducted at Sports Hall Induction Dinners page