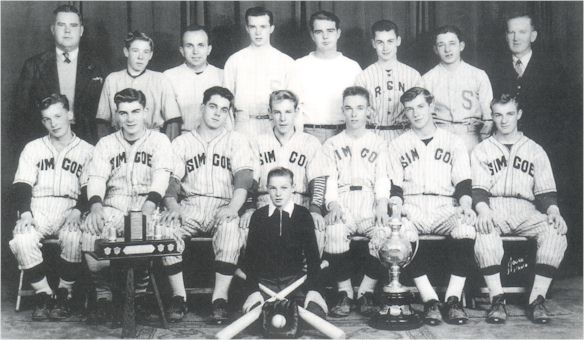 The 1946 Reformer Cubs, Simcoe's first OBA Championship team, was comprised of young men who had never played baseball before. They nevertheless defeated Tillsonburg, Ingersoll, Hespeler, Grimsby, and Petrolia before meeting Milton in a best-of-three series for provincial honours.
The teams entered Game 3 with the series tied after a 6-2 victory by Milton in Game 1 and a 5-1 Cubs' win in Game 2. Milton struck first and led 1-0 at the end of the second inning. But a nine-run outburst in the third inning, when the Cubs sent 13 batters to the plate, sealed the OBA Juvenile B and Intercounty Juvenile B Championship for the Cubs.
Simcoe's Doug King, an individual inductee in the Hall of Recognition, fashioned an impressive three-hitter with 12 strikeouts and belted a grand slam to lead the Cubs to victory. But as the score indicates, everyone contributed offensively and defensively, with Ron McIntosh being credited with an outstanding catch in right field.
The Reformer Cubs were inducted into the Sports Hall of Recognition in 2000.
Return to Teams Inducted at Sports Hall Induction Dinners page