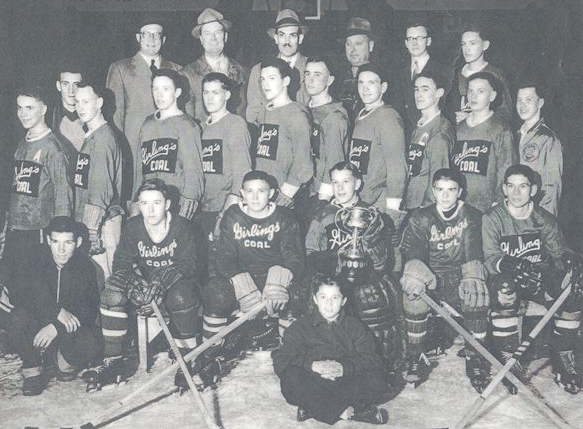 "For sheer ecstasy, undiluted joy and outright pandemonium it was the greatest sports spectacle in Simcoe's history," wrote Bruce M. Pearce on the front page of the April 1, 1953 Simcoe Reformer.
On the night of March 31, 1953, the Simcoe Girling Midgets capped an outstanding playoff run with a thrilling 5-4 final-game victory over the Collingwood Coppers in front of 1,850 fans at Simcoe Arena to capture the OMHA Midget B championship.
The champion was Simcoe's first OMHA title.
The team's road to victory included wins over Tillsonburg, Paris, Dunnville, Wallaceburg, and Walkerton, as well as the powerful Collingwood squad.
This was a talented team, coached by Frank Gelinas and led by team captain Bob Rogers, who tallied three goals and an assist in the final game. Rogers and Bob Sabatine attended the Detroit Red Wing junior camp and Rogers went on to play in Palm Beach, Florida.
Gord Loveday ended up playing for the Barrie Flyers Jr. A team and shadowed the great Frank Mahovlich in the Memorial Cup finals. Bob Norman played for the Hamilton Jr. A Tiger Cubs and Merv King joined the Owen Sound Jr. Bs. Several others deserved the opportunity to move up the hockey ranks.
On July 5, 2003 eight players and the trainer came together to celebrate the 50th anniversary of the championship, along with nine other championship teams from Simcoe.
Return to Teams Inducted at Sports Hall Induction Dinners page