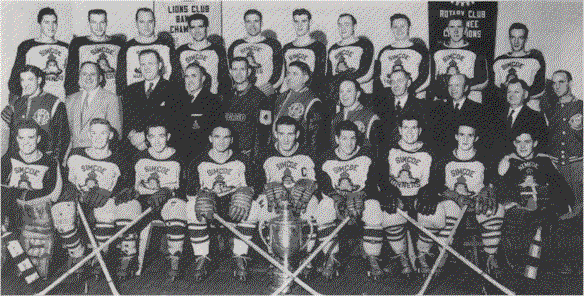 The Simcoe Gunners won the 1952-53 Ontario Hockey League Intermediate A title. The team enjoyed a 22-game winning streak that season.
More than 3,000 fans jammed the Simcoe Arena to watch the Gunners battle Eddie Bush and the Collingwood Shipbuilders for the championship.
Fred Kenny remembers rival Collingwood's Eddie Bush grabbing the microphone out of CKPC radio announcer Arnold Anderson's hand after scoring, and saying, "How do you like that, Simcoe?" during the championship game.
The whole town celebrated the Gunners' win and gave the team the traditional fire truck ride through downtown.
Gunners team members included Verne Hesse, Reggie Smith, Harry Bentley, Lennie Cook, George Stanutz, Val Lucian, Hal Schooley, Doug Walton, Terry Hagen, Dick Taylor, Bill Bartlett, Dr. Forster, Ted Westcott, Jack Dyte, Herb Hause, George "Chirp" Bentley, Harold Eatwell, George Butcher, George Troughton, Wilf Stewart, George Coulter, Jim MacKenzie, Doug Calvert, Fred Kenny, Gord Astles, Walt Gardiner, Ken Wilson, Sonny Lowe, Don Mitchell, and Bert Lariviere.
The 1952-53 Gunners were inducted into the Sports Hall of Recognition in 1996.
Original 1996 profile written by Don Stewart and Mike Bauslaugh
Return to Teams Inducted at Sports Hall Induction Dinners page