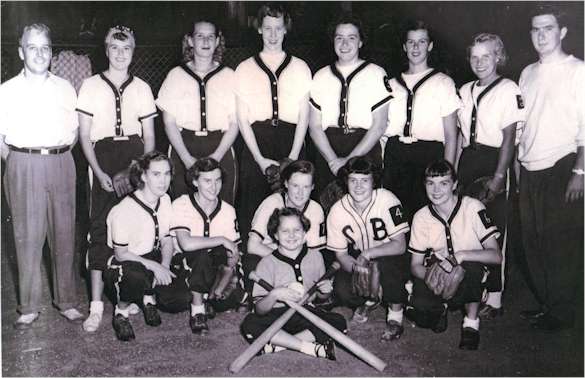 The 1953 Simcoe Stars won the Ontario Women's Softball Union's Intermediate AA championship in Brampton, September 17, 1953, defeating the Brampton Combines 8-5.
Simcoe pitcher Nellie Jordbro had an outstanding game, striking out Brampton's first 13 batters in the final.
When the new Ontario champions arrived back in Simcoe well after midnight, they were accorded the town's traditional championship reception. Provincial police provided an escort into town and on arrival at Norfolk Motors the players and team officials were welcomed and congratulated by Mayor W.H. Martin.
Boarding the big fire truck, they were paraded around town, led by the local police cruiser. The noisy cavalcade, with sirens and horns blaring, ended up back at its starting point and the team and a number of supporters topped off the big evening with lunch at the Tops Restaurant.
Coached by Herb White and Fred Amberger, the players were Darlene Johnson, Dot Morden, Nellie Jordbro, Louise Chute, Marie Amberger, Betty Opersko, Joanne Poirier, Joan Rowbottom, Marilyn Ward, Doris Bentley, and Marg McCarey. Carol Cook was the bat girl.
The 1953 Stars were inducted into the Hall of Recognition in 1998.
Return to Teams Inducted at Sports Hall Induction Dinners page