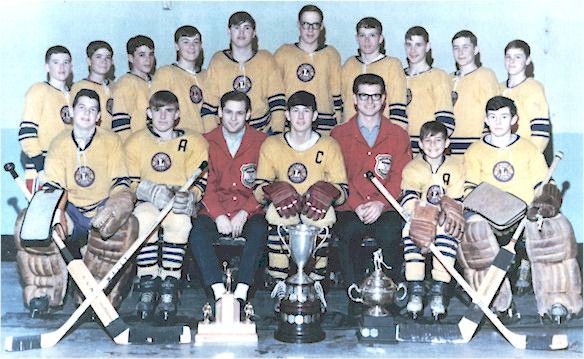 The Simcoe Lions brought the first Ontario Minor Hockey Championship in 11 years to Simcoe in April, 1968 when they defeated Hespeler 3-1 in the Ontario Minor Hockey Association Bantam A playoffs. The Lions had won the opening game of the best-of-three series in Simcoe by an identical 3-1 score.
Coached by Larry Chambers and Ron Cullimore, the Simcoe boys breezed through the Ontario playoffs undefeated in ten games, eliminating teams from Dunnville, Ingersoll, Fort Erie, and Goderich before meeting Hespeler. The Lions won a total of 43 games that season, while tying one and losing one.
Team captain Doug Demeyere accounted for all three Simcoe goals in the opening game and scored the clincher in the dying minutes of the final tilt. John James scored the other two Simcoe goals in the final series. He also picked up an assist on Demeyere's tally.
John Luke and Gary Robinson shared goaltending duties in the weekend games, with Luke in the net for the final game Sunday and Robinson on duty for Friday's opener.
Upon their return to Simcoe at 6 p.m. Sunday after the final game, the Lions were greeted by several hundred well-wishers and given the traditional hero's ride through downtown streets on the local fire truck.
Return to Teams Inducted at Sports Hall Induction Dinners page