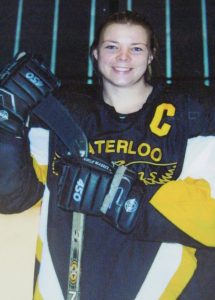 Nobody who has ever known Amanda Van Paassen-Bolen would have been the least bit surprised to learn of her induction into the Norfolk County Sports Hall of Recognition.
From the time she started into sports (and she played most of them), Amanda was a winner and a leader. She also became a role model and mentor for other young female athletes.
It has not always been easy, but from being the only girl on boys' teams to becoming the first female from Norfolk to play in the National Women's Hockey League, Amanda has shown a determination and a passion seldom equaled.
Amanda was a successful athlete at St Cecilia's School in Port Dover but it was at Port Dover Composite School that her versatility, skill and leadership became evident. Her PDCS Principal Terry Walsh once wrote, "Amanda is a superior athlete, superior student, and all round superior person".
Amanda competed successfully in every sport she tried but clearly hockey was her passion. She was rewarded when the PDCS boys' hockey team asked her to be their captain. Along the way she picked up the Iron Man Award in PDCS boys hockey, the Fred Gammage Award for the Most Dedicated Athlete at PDCS in 1998-1999 and the Female Athlete-of-the-year Award at PDCS in 1999-2000.
Armed with size, talent and aggressive determination, the rugged defenceman moved on to the Wilfred Laurier Golden Hawks women's hockey team, which won OUA Provincial silver in 2000-2001, OUA Provincial gold in 2001-2002 and CIS National silver in 2001-2002. Perhaps a highlight of those years was the opportunity to play against Finland's National Olympic team in January 2002 in their final exhibition game before the 2002 Olympics.
From Laurier it was on to the B.A.D. (Belmont, Aylmer, Dorchester) Girls Blazers, one of the best Senior AA women's hockey teams in Ontario where she was an Alternate Captain in her first year with the club. The Blazers won provincial gold in 2004-2005.
Signing with the Oakville Ice of the National Women's Hockey League was the realization of a life-long dream. While playing alongside Hagersville's Becky Kellar when she wasn't with the Canadian Olympic team, Amanda and the Ice won Provincial bronze in 2005-2006. In 2009-2010, Amanda was a key member of the Senior A Barrie Sharks who won Provincial silver. She accomplished all of this while studying, getting married, and becoming a successful massage therapist.
Amanda, although living in Orillia at the time of her induction, has never forgotten her roots. She has continued to support local athletes through her involvement in Power Skating, the Beginner Tyke program, coaching soccer in Port Dover, assisting at Becky Kellar's hockey school in Simcoe, coaching high school hockey and soccer in Orillia and the list goes on and on.