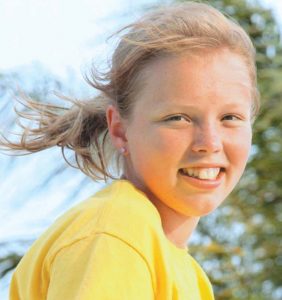 Annaleise Carr attended Walsh Public School before graduating in 2012 and serving as Valedictorian in her graduating year.
Much of her time outside school was spent in the water, as she began swimming at the age of four.  Over the next nine years, Annaleise swam with The Norfolk Hammerhead and South Western Aquatus in Tillsonburg.  She also swam with Open Water North Shore swimmers of Port Dover and The Lake Ontario Swim team at competition levels.  At this level, she participated in the Ontario Short Course (London – 2009), Ontario Long Course Provincial (Thunder Bay – 2008), Ontario Open Water Provincials (2008 – 2010), finishing 4th in the Ontario age group.
In 2007, Annaleise swam the fastest time in Canada for 800 M Freestyle Event.  She was also a member of the Tillsonburg Junior Life Guard Club and Provincial Champion in Pool and Beach Competition.
Annaleise wished to become a volunteer at Camp Trillium but found she was too young.  Her continued interest and desire led her to want to raise funds to assist with the running of Camp Trillium.  With her drive, support from family and assistance from professionals she entered Lake Ontario at Niagara-on-the-Lake on Aug. 19, 2012 in an effort to master the waters from there to Toronto, much as Marilyn Bell had years earlier.
Some 52.5 kms, 26 hours and 41 min. later, she emerged from the water on the Toronto shoreline becoming the youngest person to accomplish this feat.  She brought worldwide fame to Norfolk County, the village of Walsh, Camp Trillium, and certainly to herself,  her family, and supporters.  Approximately $225,000 was raised to aid the children and families who benefit from the offerings of Camp Trillium.
Many additional, well-deserved honors have been bestowed upon Annaleise.  The Simcoe Recreation Centre was renamed "The Annaleise Carr Aquatic Centre."  Annaleise received a standing ovation in the Legislature of the Ontario Parliament where she was a Page.  Norfolk County Council nominated her for a Queen's Jubilee Medal and she was presented with such by Prime Minister Harper in October, 2012. Canada Sports Hall of Fame in Calgary awarded her the Canadian Sport Spirit Award. She was also nominated for, and received, the World Open Water Woman of the Year Award.
In regards to her immense amount of funding received for Camp Trillium, Annaleise summed up her personal motivation in this way: "As I got into the water on Saturday, I just kept thinking about Camp Trillium and what I was doing it for. I didn't want to give up when I thought about how much the kids at Camp Trillium have been through and what they have to go through their entire lives."