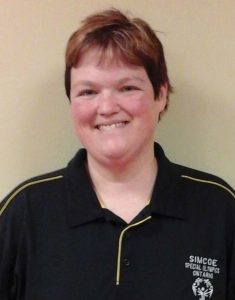 "Competing—I know I can."
This positive attitude is one of the key ingredients to Ashley's many successes leading to her being one of the first Special Needs athletes inducted into the Norfolk County Sports Hall of Recognition. Ashley has been recognized as a loyal friend, a loyal worker, and someone who shows a positive attitude toward people and life in general. She simply takes life in stride.
Though Ashley has successfully competed in floor hockey, bowling, darts, and baseball, her most feted accomplishments have been in swimming. Her ability and interest in swimming has led her through local, provincial, national, and world competitions, resulting in her being the first person from this area to attend the World Games (2007) in China for Special Olympics where she was successful in swimming events.
Her accomplishments have not gone unnoticed. Among the accolades Ashley has garnered are a Citizenship Award (1996-97), Outstanding Student Award (2003), MPP Award from Toby Barrett, House of Commons Award, recognition at Norfolk County's Parade of Champions, numerous medals from the world, national, and provincial levels, and the prestigious Duke of Edinburg gold award presented by Prince Edward for success in areas such as community service, skills development, and physical fitness.
At the time of her induction, Ashley was also volunteering in the community, spending time at Norview Lodge, assisting with Christmas Panorama activities, and helping to coach her peers in swimming. She has also been involved in the Ontario Law Enforcement Torch Run for Special Olympics.