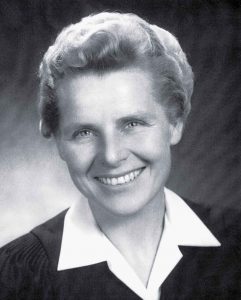 On October 17, 1953, Waterford's Betty Opersko appeared on the cover of the Toronto Star weekly, but she has made many, many more appearances on the ball diamonds and on the basketball and volleyball courts throughout Ontario.
From the age of 11, Betty was involved in many sports as an athlete, and collected numerous championships in baseball, basketball, curling, bowling, and broomball. Opersko was a talented athlete, but it was as a referee that she truly made her mark.
At the time of her induction to the Norfolk County Sports Hall of Recognition, Betty could claim 55 years of basketball officiating, 43 years of umpiring on the diamond, 40 years of volleyball officiating, and two years calling the games in the Ontario Broomball Association. Regardless of the sport, Betty made her mark as a highly respected game official.
Her officiating prowess earned her the right to officiate at high levels of competition. Opersko umpired at the Ontario Baseball Association (OBA) Summer Games, the OBA provincial championships, the Slo-Pitch nationals, and refereed the Ontario Basketball finals. She has refereed university volleyball, and has been a referee-in-chief and an instructor of officials.
Betty was the first woman umpire for baseball, fastball, and slo-pitch in Simcoe and area, and the first woman volleyball, basketball and broomball referee locally as well. Despite the novelty, her gender quickly became a non-issue because of her knowledge and control of the game.
For her talents and dedication to sport, Betty received a number of local and provincial awards, including one from OFSAA recognizing 50-plus years of refereeing high school volleyball and basketball.