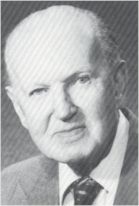 Bruce Pearce played baseball as a young man, but it was his tireless efforts as a sponsor, and more importantly, as a booster of minor sports, that enabled him to leave his stamp on the development of minor sports in Simcoe.
Bruce Pearce owned and published The Simcoe Reformer and through that vehicle, he sponsored countless baseball and hockey teams. If there was a need in minor sports, Bruce Pearce filled it, either through a financial commitment or by his ability to convey an important message to others.
He managed baseball teams as a young man, taking on teams at the Peewee, Bantam, Midget, Juvenile and Junior levels. He guided the 1946 Reformer Cubs to an Ontario Junior title—a significant achievement in itself, but made more so by the fact that it was Simcoe's first provincial baseball crown. He went on to win many other Ontario championship titles.
Bruce Pearce saw an interest in sports and the skills that went with it as an indicator of good character. He gave employment to many young men in search of a job because they exhibited skills on the sports fields and arenas.
There has been, perhaps, no person in this area who has exhibited  greater love for baseball.