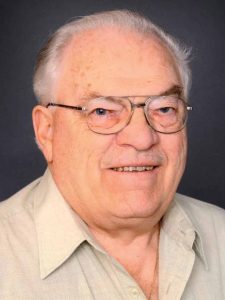 With two sons, David and Paul, coming up through Simcoe's minor sports ranks, Bryan Zilkey jumped into a volunteering role with both feet. He spent years involved with both Simcoe Minor Baseball and Simcoe Minor Hockey, also ascending to the Third Vice-President of the Ontario Minor Hockey Association.
In the 1980s and early 1990s, Bryan's efforts were rewarded with a ton of on-ice triumphs.
"We had OMHA championship teams while I was running hockey in Simcoe and on the OMHA executive . . .  we had championship teams all the way up," Zilkey noted, recalling the time he accompanied a now-legendary Simcoe squad coached by Brian Hoover and Bob Kowalsky on a tour of Sweden. Bryan would return to Europe alongside other teams from Ontario, but that group was special—it included future NHL goalie Dwayne Roloson and hall of fame defenceman Rob Blake, both of whom became members of the Sports Hall.
"That was a particularly satisfying experience to be able to accompany that team to Europe," Zilkey said.
Zilkey was also a charter member of the Simcoe Curling Club, but his reach extended far beyond the rink. He spent 20 years as an umpire and became a central figure in the Simcoe Christmas Panorama River of Lights. He has also dedicated time to local branches of the Ontario Lung Association, Heart and Stroke Foundation, and the Alzheimer Society of Canada.
"He was a hard worker for the community and a lot of people didn't know that," said Bill Helka, who umpired with Zilkey.
"I would be at his place, it would be hockey time and supper time and his phone never stopped ringing," Helka remembered. "It would be coaches or players [on the line]. He was really deeply involved."
Zilkey said he was 'elated' with the news of his induction into the Sports Hall.
"I followed the awards over the years of other people," he said. "But I was quite happy in terms of receiving the recognition."