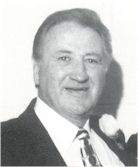 Chuck Brimmer always had the time, the energy, the skill and the enthusiasm to organize another event.
It all started in 1971 when Chuck issued a radio ad looking for Atom players to play in a summer hockey league in Ancaster. Chuck organized car pools, got the parents involved and coached the team to the championship. It was that experience that prompted Brimmer to dream of a tournament in Simcoe. Thus began, in 1971, the first Golden Gardens Tournament which, as of the time of Chuck's induction into the Hall, had attracted over 12,000 participants. Chuck was chair of the tournament for several years at the outset, and later returned to serve as its chair during the last few years before his induction.
Chuck chaired of the first sports celebrity dinner in the early 1970s held at the Royal Canadian Legion on West Street, with the likes of Turk Broda, Camiel Henry and Alan Eagleson. He chaired the hugely successful Simcoe Area Sports Hall of Recognition Induction Ceremony and Celebrity Dinner in 1996.
Chuck teamed up with John Black to organize the first fastball tournament ever held at Centennial Park during Friendship Festival Weekend. Chuck, along with Howard Woolley, also chaired the building of the Simcoe Lions Club mobile float depicting Panorama that promoted Simcoe in parades in such places as Kitchener and Quebec City. In 1967 Chuck was chair of the Friendship Festival. He also served as a coach, referee and President of Simcoe Minor Hockey.
Chuck played Junior B hockey in Brantford and Waterloo before embarking on a stand-out career in Senior and Intermediate leagues. The Nitehawk Restaurant and Norfolk Pools sponsored numerous teams over the years.
But it is for his organizational skills that Mike MacArthur says, "I admire Chuck's passion and dedication to his community. He does it for the benefit of the players and the larger community. He displays an unselfish devotion to the game, to the players and to his community."