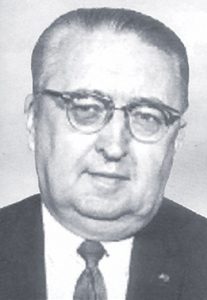 For a quarter century, between 1950 and 1974, Clarence Perkins was Mister Softball in Norfolk County. He guided local leagues and umpires throughout the 1930s, 40s, 50s, and 60s.
Known as a builder of gentlemen, "Perk" inspired sportsmanship and honour.
In a very real sense, Perk built the infrastructure of softball in Norfolk County. Along with Herb Champion and Otto King, he was instrumental in building the ball diamond at Wellington Park.
He also co-founded the Simcoe Minor Softball Association, along with George Thomas.
Clarence served as President of the Ontario Amateur Softball Association in 1959 and as Assistant to the Secretary of the OASA from 1962-1974. He was awarded an OASA Life Membership in 1974.