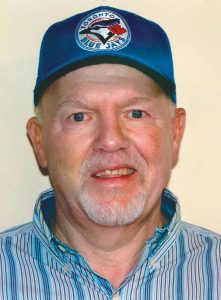 "Team" is very important to Cliff and this talented athlete and coach is a strong believer in positive thinking.
Cliff started playing hockey in 1960 and by 1963 he was coaching a Novice rep team.  He didn't have a driver's license so his parents drove him to out of town games.  In 1964 Cliff received his Referee Certificate.
In 1966 and '67, Cliff won the Juvenile Most Valuable Defenceman Award and was picked up to help Port Dover win the Ontario Rural Hockey Association Intermediate A Championship. In 1968-69, he was captain of the Port Dover Sailors.  The following year he went to the newly-formed OHA Intermediate team, the Port Dover Lakers. In 1973, Cliff became the Port Dover Junior coach. Although only four years removed from junior eligibility himself, Cliff was always well respected.  In 1984-85, he coached the Port Dover Burcham Atoms to the Ontario Minor Hockey Association Championship.
Baseball was a passion too starting in 1960 with the Port Dover Peewees, followed by Bantam and Midget rep teams.
In 1964 at age 15, Cliff made the Simcoe Intercounty Junior Baseball Club. The following year he started in the men's commercial fastball league and in 1968 he was invited to a major league evaluation camp in Buffalo.
In 1971 Cliff won the Most Valuable Catcher Award in the Simcoe Ontario Amateur Softball Association Intermediate Tournament, and in 1975 and '76, he was the first catcher to win the Most Valuable Catcher Award in back-to-back years.  In 1980 he proudly won the Owen Shank Memorial Award for a player combining a high degree of playing ability, dedication and sportsmanship.
In 1980, Cliff received his Southern Counties Umpiring Certificate for Minor Baseball, OASA and Commercial League games.
Always a builder, from 1991-95,  as President of the Port Dover Minor Baseball Association, he invited major league scouts to attend the annual All-Star Day showcasing players from all southern counties teams.
In 1999 Cliff coached the Port Dover Midgets to an OBA Provincial D Championship, the first championship team from Port Dover since 1957, and he became the OBA Senior Coach of the Year.  In 2000 he coached them in the Provincial A Championship, where they played against teams in the 50-100,000 population range and won.  They were named OBA Team of the Year, and player Derek Lowe was named OBA Player of the Year.
In 2001 and 2004 Cliff coached the Midgets to the OBA Provincial C and E Championships respectively.  In 2002 they made it to the OBA Provincial B Championship finals.
Over the years Cliff coached ten players who received baseball scholarships to schools in the United States. He also coached John Axford, who at the time of Cliff's induction was playing with the Colorado Rockies.