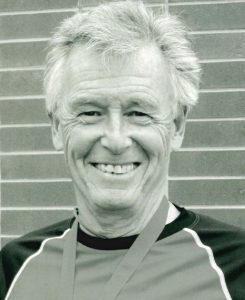 Back in the early 1970s, Simcoe's David Baldock attended a course that would alter his life. A teacher in Toronto at the time, Baldock learned about orienteering, a Scandinavian sport in which athletes race to see who can most quickly navigate a course through diverse and often unfamiliar terrain using a map and compass.
"It's like playing chess and running a marathon at the same time," David noted. "A half an hour after you finish, you just feel fantastic."
After that introduction to the sport, Baldock found himself captivated by the challenge it offered. He went on to compete at events throughout North America, winning provincial and national titles along the way.
Baldock's successful orienteering career will come as no surprise to his peers and former students—it combines two interests in one athletic package. "I was a math [department] head for a number of years and I like to play games," he said. "The idea of doing something that was mentally and physically challenging at the same time in the outdoors just caught me—I loved it. When we started to have a family, it was super because the whole family can participate."
Baldock noted that the hurdles that had to be overcome during events were the most enticing proposition of all. "In a variety of things in my life, I never give up," he said. "If what I tried to solve in one of the legs of the course didn't work, I can easily adapt and say 'I'm no longer where I thought I was, now I've got to get to where I have to get to'."
With his wife Nancy and sons Bren and George alongside, the sport took David and his family to locations they likely never would have visited otherwise. Their summer vacations consisted of heading to wherever the Canadian Championships were being held. "We toured across Canada doing orienteering," he noted. "We've gone to the east coast and the west coast and down in the States a bit. As far as it being a marvellous activity for families, it has really been a big thing in my life."
Since taking up the sport in 1971, Baldock has participated in orienteering events for over 40 years. During that time, he has competed in most of the major orienteering events in North America, including regional, provincial, national, and North American Championships. He has accumulated a number of provincial and national age group titles and top-three finishes in provincial and national competition. David finished third in his age group at the North American Orienteering Championships in 2008.
David has also supported the development of orienteering locally. He developed enrichment modules for Grades 5/6 and 7/8, and created orienteering courses and stations at Turkey Point Provincial Park and Long Point Regional Conservation Authority. He also served as a member of the executive of the Hamilton King's Foresters Orienteering Club.