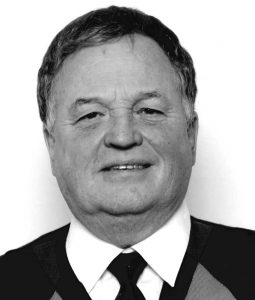 David Edmonds' love affair with coaching began in the 1960s at the young age of 14 in Simcoe when he was asked to assist a surgeon on the bench. "I think they needed coaches for the little kids," he said. "After about the second game he said to me 'why don't you do it? I can't make it'. I was 14 coaching and said 'OK'— it worked out fine."
"Fine" is an understatement. Edmonds went on to play and then volunteer with Simcoe's Junior D squad before eventually moving to Delhi Minor Hockey alongside Kees Bouw. The duo stuck together for two decades, leading various Rockets teams to countless wins. Their 1993-94 Delhi German Home Atom squad went on to capture the OMHA Atom CC championship. That magical campaign was David's favourite season. "That year I'll never forget because the parents were the greatest and I think we only lost four games the whole year, tournaments and regular season," he noted.
Edmonds coached with Bouw all the way up until 2006. After that, he joined the staff of George Biddle, coached a few years on his own, then joined up with Shane Glendinning in Delhi and also Tillsonburg.
When David finally decided to give up coaching in 2016, he had put in a whopping 50 seasons, accumulating numerous Southern Counties championships during that time. He coached a number of great players along the way, including future NHLers Geordie Kinnear and Ryan VandenBussche. "I still miss it, when I go to the arena I wish I was on the bench," Edmonds says with a laugh. "I was getting tired of practices—to me, it was getting colder."
Though David also spent time volunteering with minor soccer and baseball, hockey was always the closest to his heart. "I never thought I'd ever quit," he notes. "It was all for the kids and I had fun right along with the kids."
In addition to coaching, Edmonds also served on the Delhi Slo-Pitch executive in 2004-2005, and the Delhi Minor Hockey executive in 2011 and 2012.