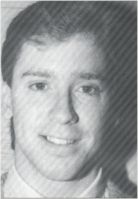 Dean Bint was among the very best roller skaters in the world.
He began roller skating at the White Horse Plaza roller rink at age 8 and quickly showed a keen interest in the sport. Even as a youngster, it was apparent Dean could do great things with his feet as he glided across the wooden floor.
But it took more than natural skill for Dean to reach the level he did in his chosen sport. Dean's skating took him to London, Kitchener, Michigan, Hamilton, Burlington and Buffalo for coaching and competition.
The more coaching he took in and the more competitions he tried, the better he got. Dean dominated the Canadian Men's Singles championships, winning 14 titles between 1975 and 1989. He shared the Ontario and Canadian Sophomore Doubles Championship with his sister Dolly in 1985.
By 1980, Dean was ready to compete with the world's best. He represented Canada in the World Championships in Colombia, earning a 12th-place finish. Dean went on to compete in a number of world championships, finishing 10th  in 1983 and 8th in 1984.
He also represented Canada in the Pan American Games twice in the 1980s, earning a gold medal in 1987.
Dean passed on his skills and talent to other youngsters. He coached young skaters in the arts and sport of fine skating. At the time of Dean's induction into the Sports Hall, two of his proteges were ranked among the top skaters in Canada, and one had placed sixth in world competition.