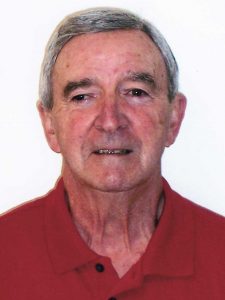 Dick Gibbons' athletic career began as a youngster in Montreal and continued in Simcoe and area for many years. He was drafted as a pitcher by the St. Louis Cardinals in 1953 and was assigned to Hannibal, Mississippi, where it was discovered that he was blind in one eye. That ended his pro baseball career, but it didn't dim his love of baseball and other sports. Gibbons returned to Norfolk where he starred for many years on the baseball diamonds, ice rinks and golf courses.
Gibbons was an outstanding player, captain, and coach of the Delhi Rocket 88's hockey team. Dick led the team in scoring in eight of his ten seasons but it was his stick handling and play-making that dazzled fans and opposition alike.
Dick's coaching career included stints with the Simcoe Chiefs, the Delhi-Langton Leafs and Simcoe Minor Hockey. Dick spent many years coaching minor baseball with his friend Jim Cleaver.
At the time of his induction, Dick had committed a dozen years as a dedicated volunteer for the South Coast Special Needs Kids and could be found most weekends coaching sledge hockey, baseball, bowling, basketball, or golf. His love of sport and his love of people were always evident.
As Jim Cleaver once said, "Dick Gibbons is a unique individual, a rare mixture of athletic ability, graciousness, sportsmanship and humanity."