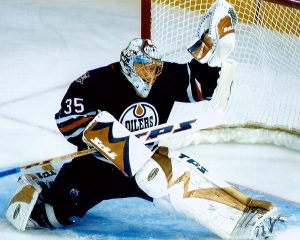 Dwayne Roloson collected his fair share of recognition during 30+ years in hockey.
Roloson backstopped Simcoe Atom, Bantam and Midget teams to OMHA championships between 1980 and 1984. After successful junior hockey stints in Simcoe with the Penguins and Rams, Norwich, Belleville and Thorold, it was off to the University of Massachusetts-Lowell from 1990 – 94 where he was a star. In 1993-94 he was selected to the NCAA East First All-American all-star team, was Hockey East Player of the Year, was the Hockey East William Flynn Tournament MVP, and was selected to the Hockey East First all-star team.
All of this led to a free agent signing with the Calgary Flames in 1994. Dwayne was assigned to the Flames' AHL affiliate in Saint John where in 2001 he was selected to the AHL First All Star team and won the Baz Bastien Memorial Trophy for Best Goaltender as selected by the media and players. He was called up to the Flames in 1996-97.
His NHL career up to the time of his induction included stints in Calgary, Buffalo, Minnesota and Edmonton. In 2003-04 Dwayne was awarded the Roger Crozier Saving Grace Award for the best save percentage. A cheque for $25,000 was donated to the charity of his choice. He chose the Norfolk Pros and the Simcoe and Area Youth Soccer Development Project. This is just one example of Dwayne's generosity. He never hesitated to give of his time, talents and money when it comes to local projects.
No local hockey fan will ever forget the mania that swept across Norfolk County in 2006 when Dwayne quietly but diligently backstopped the Edmonton Oilers to the Stanley Cup finals. Many fans still have the "Keep On Rollin, Roli" stickers that were sold to support the Fresh Air Fund and the Norfolk Knights Lacrosse. Only a devastating injury in game one of the finals could solve his magic between the pipes and dash hopes of another Stanley Cup celebration in Norfolk.
After the 2007 regular NHL season, Dwayne represented Canada at the World International Hockey Championships in Russia and came home with a gold medal. If that wasn't enough, he agreed, to the delight of 40 aspiring young goalies, to bring the Roloson/Mason Goalie School to Simcoe at half the price his American counterparts charged.
Dwayne contributed willingly and generously to numerous fundraising projects including the Waterford Arena's "Raise the Roof" campaign and the Sports Hall of Recognition but perhaps he should best be remembered for his sportsmanship, his perseverance, his ability to overcome adversity, and his 'team first' positive attitude.