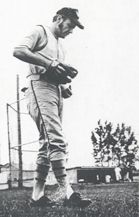 Left-handed pitcher Earl Chandler, affectionately known throughout baseball circles simply as "Spud", amassed over 200 wins with just over six losses.
Spud's on-field accomplishments were legendary, beginning with an Ontario Midget All-Star selection in 1949, six intermediate or senior provincial championships, and an Ontario Vintage crown.
He is a six-time Southern Counties All-Star, three-time MVP for the Delhi Tobaccomen, and Southern Counties League MVP in 1955. He pitched effectively for Simcoe, Delhi, Listowel, Walsingham and the Hamilton Cardinals. Probably the only thing more profound than his pickoff move to first base and his longevity (Chandler competed for seven decades) is his memory for the details of his games.
Chandler did not limit his talents to the playing field. He also served as a tireless coach and organizer at both the minor and adult levels.
Chandler coached numerous baseball teams in Simcoe. He was president of the Simcoe Minor Baseball Association for 15 years, Southern Counties president for nine years, and president for a year of Simcoe Old Timers baseball, a league which he helped form. Chandler has been a councillor of the Ontario Vintage Baseball Federation and in 1999 entered their Wall of Fame.