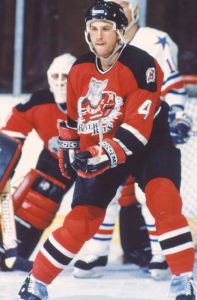 Geordie Kinnear was born and raised in Norfolk County and was educated in Delhi elementary and secondary schools.  During his secondary school years, he excelled in football and basketball as the Delhi Raiders won championships at the NSSAA and OFSSAA levels.  He also participated in Track and Field at the local and provincial levels.
Geordie also developed a passion for hockey.  His skills and dedication shaped his future as he became a participant and coach at the professional level.
During his minor hockey days in Delhi, Geordie was a member the Midget All-Ontario Championship team in 1988-89. In 1990, he was drafted by the Peterborough Petes (OHL) in the second round.  He remained there from 1990 to 1993, winning the OHL Championship in 1992-93.
In 1992, Geordie was drafted by the New Jersey Devils (NHL) and became one of the inaugural members of the AHL's Albany River Rats, playing with that team from 1993 to1999.  During this time, he served as Captain for three years, was selected to the All-Star Team for four consecutive seasons, and won the Calder Cup in 1995.
In August, 1999, he signed as a free agent with the Atlanta Thrashers, playing four games in the NHL, and spending the remainder of the season with the Thrashers' IHL team, the Orlando Solar Bears. In November, 2000 he was traded back to the New Jersey Devils organization and was assigned to Albany River Rats.  In December, 2000, he was forced to retire due to injury. His #4 jersey was retired by the River Rats.
Geordie then turned his attention to coaching, serving as the assistant coach of the River Rats from 2001 to 2006.  Albany became affiliated with the Carolina Hurricanes in the 2006-7 season and Geordie remained with River Rats as part-time Assistant Coach and Special Consultant.  In 2007, he became a full-time Assistant Coach.
At the time of his induction, Geordie was in his fifth season with the Carolina Hurricanes affiliate, now called the Charlotte Checkers.  He was one of three inaugural members of the Albany River Rats named to their Hall of Fame in January 2010.
In the off-season, Geordie and his family often returned to Ontario where he and his friend Ryan VandenBussche operated Tri-County Pros Hockey School. Geordie was also been a member of the Norfolk Pros, fundraising for local groups and supporting many local community charities and events.