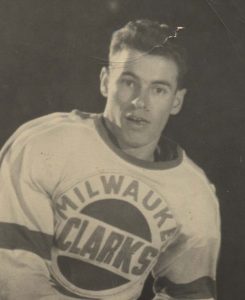 George Burcham's long and illustrious hockey career began with Port Dover Minor Hockey, where in 1942 his team won the first-ever Port Dover Minor Hockey Championship and he was selected to the All-Star team.
In 1945-46 and 1946-47, George was a key member of Port Dover's OMHA juvenile finalist teams. From there he spent 1 ½ years with the OHA Junior A Galt Rockets before he was traded to the OHA Junior A Barrie Flyers who, in the playoffs, defeated the Toronto Marlies to become OHA champions. Unfortunately, in the semi-finals of the Memorial Cup, the Flyers lost to the Montreal Royals.
In 1949-50, George played for the Cleveland Knights of the EHL. They folded in December so George moved on to the Milwaukee Clarks also of the EHL. From 1950-53, he was with the Grand Rapids Rockets of the IHL. They lost in the finals all three years but George was a second team all-star in 1950-51. His scoring stats are clear evidence of George's ample ability and grit. In 184 games with Grand Rapids, he scored 89 goals, had 87 assists and collected 149 penalty minutes.
Following a brief but successful pro career, George returned to Port Dover in 1953-54 to play intermediate hockey, where he continued to excel for the next 11 ½ years. George was team captain for many of those years and along with Doug Loveday and Walt Mummery formed the top line in the league. Sadly, at the age of 35 George lost an eye but was able to continue his playing career.
George was instrumental in Port Dover's 1961-62 OHA Intermediate Championship, the 1964-65 Thunderbird's ORHA Senior title and the 1967-68 ORHA Intermediate A championship.
At age 45, George turned his attention to Oldtimers Hockey, where with Simcoe he won the Canadian Oldtimers Hockey Association C Division National Championship in 1980. George retired from playing in 1992 at the age of 63.
Although extremely tough to play against, George was known as a gentleman on and off the ice.
George was a successful Minor Hockey and Junior Hockey coach in Port Dover for many years. He sponsored the Port Dover Atom Rep team for over 30 years. They picked up George's winning ways, with three of those teams earning OMHA championships.