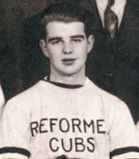 Eddie O'Donnell did it all when it comes to sports.
He played. He coached. He officiated. He served on countless sports executives at all amateur levels for many years. He acted as a statistician.
He also became one of the area's greatest walking encyclopedias of past local sports lore and a genuine sports ambassador.
Eddie played hockey, baseball, softball and high school football. He was a tireless competitor, making friends wherever he went for his great skills, attention to the rules and his happy-go-lucky demeanour.
O'Donnell was a perfect choice to become the arbiter of rules when his own playing days were done. He refereed hockey and umpired both baseball and softball at all levels of the game for many years. He knew the rules and could judge a situation with the best of them, often defusing highly-charged situations with his fair treatment.
O'Donnell served as secretary for the Southern Counties Baseball Association for 12 years and was convenor and statistician for the Southern Counties Hockey League.
Eddie gave his time and efforts to sports, performing with great fervour and later passing on his skills as a coach and mentor.