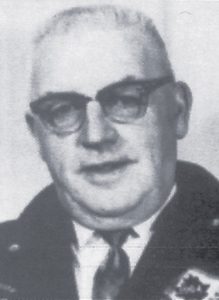 Although he didn't play softball as a youngster, when asked to coach a North School peewee team in 1948, George Thomas led them to two championships in three years. That was only the start of a quarter-century of dedicated service to the community.
George co-founded the Simcoe Minor Softball Association in 1950 with Clarence Perkins, then served as its president for 20 years. Though the organization originally focussed on the peewee level, George expanded its mandate to include bantams and squirts. Appointed as a special convenor to the Ontario Amateur Softball Association, by 1965 George was an executive member, a post he held for several years.
Over the years, there were numerous successes and OASA championships. In an interview with the Simcoe Reformer upon his retirement from the local Association in 1970, George said, "My biggest thrills would have to be the championships we won."
George passed away in 1983, leaving a legacy of sportsmanship and commitment to sports that continued through his son and his grandchildren.
"He was a big, strong man, who loved sports and his family. He was gruff in manner, but he had a soft heart," his wife Ruth said.