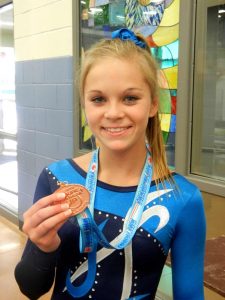 Haven Swarts of Port Dover has achieved tremendous success as a power tumbler in the sport of gymnastics.
Starting at age 8, Haven was introduced to the sport of tumbling at the local Simcoe Gliders club. As a youth she went on to represent Ontario and Canada at international events.
Haven's trophy case includes several gold medals from Canadian championships and a top ten placing at the Worlds.
Haven is also an accomplished hockey player and gives back to the community by mentoring young athletes with special needs.
Haven was selected as a 2019 inductee into the Norfolk County Sports Hall of Recognition. She will be formally inducted into the Sports Hall at a ceremony in 2021.
Return to Individual Inductees page