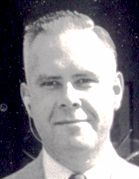 "Howard Showers covered the sports scene in Simcoe and area for many years as sports editor of the Simcoe Reformer—like no one else," says Doug MacDonald. "He was always on the run, as he didn't drive, racing from one venue to another to report on the various athletic events in progress."
Showers' column, "Sprinkling on Sports by Howard Showers", was a regular Reformer feature and contained in-depth commentary on local and national sports. Each column provided a clear and clever reflection of Howard's insight into, and passion for, sports.
Showers provided thrilling coverage of many successful teams and individuals. Memorable moments include his descriptive depiction of the 1952-53 Simcoe Gunners' O.H.A. Intermediate "A" hockey championship and his extensive coverage of Simcoe's first O.B.A. Intermediate "A" baseball championship.
Showers was much more than a skilled writer. He was a walking encyclopedia of local, provincial and national sports lore with a talent for painting vivid pictures with his words. To read a Howard Showers article was to relive the event.
For this and his passionate belief in all athletes, both amateur and professional, Howard Showers earned his spot in the Norfolk County Sports Hall of Recognition.