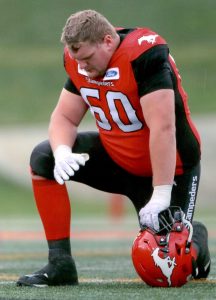 Shane Bergman spent seven seasons with the Canadian Football League's Calgary Stampeders before retiring in January, 2021. Bergman, an offensive lineman, played in 93 regular season games and 10 post-season matchups, including Grey Gup victories in 2014 and 2018. In 2019, Bergman was named to the West Division and CFL all-star rosters.
Referred to as a "technician" with effortless skill, Bergman was said to be one of those athletes who "makes the players around him better." 3 Down Nation listed him as one of the Top 100 Active CFL players in 2020.
Prior to suiting up for the Stampeders, Bergman played for the Western Ontario Mustangs. As a high school player, he helped the Waterford District High School Wolves earn the league title in 2009.