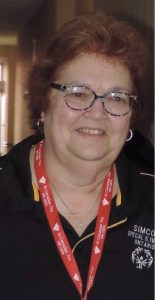 Shirley Shaw served as head coach for the Simcoe Seals swim team for Special Olympics athletes for over 20 years, seeing the numbers rise from nine swimmers to over 40 during that time. Shaw has also served as the local chair of the Simcoe Special Olympics Community Council.
Besides swimming, Shaw also introduced a number of other sports to local Special Olympics athletes, including basketball, floor hockey, snowshoeing, and golf.
In the reference letters supporting her application, Shaw was praised for her "dedication, kindness, and compassion." She was also described as a "wonderful coach and mentor," with "an amazing way with the athletes." One reference noted that "Shirley has provided an opportunity for individuals with disabilities to feel valued, accepted, and accomplished in their sport and in life."
In acknowledgement of her efforts, Shaw was named Special Olympics Ontario Female Coach of the Year in 2016. She received the Sovereign's Medal for Volunteers from the Governor General of Canada in 2017, and was named a Paul Harris Fellow by the Rotary Foundation in 2019.