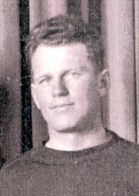 Jack Roxburgh fell in love with hockey as a kid and spent a lifetime sharing that love of the game.
Roxy played hockey at the old Mason Arena and later traded in his skates for a career of organizing and spreading the good word about hockey.
Roxburgh organized juvenile and junior hockey locally after finding his niche in organization and administration. He helped found the Ontario Juvenile Hockey Association in the 1930s. The Juvenile league was a forerunner of today's Ontario Minor Hockey Association.
Roxburgh was an executive member of the Ontario Hockey Association and was president from 1950-52. Later, he became president of the Canadian Amateur Hockey Association. He spent considerable time abroad with many hockey teams as he promoted better relations between people through sports. He was among the first to help Russians organize their hockey system and promoted friendly competitions between Canada and Russia.
Roxburgh represented Canada at the International Ice Hockey Federation and was recipient of the OHA Gold Stick award for his achievements in the sport. He was a life member of both the OMHA and the OHA.
Roxburgh spoke and lectured on the game of hockey. He represented the area as a Member of Parliament three times starting in 1960.