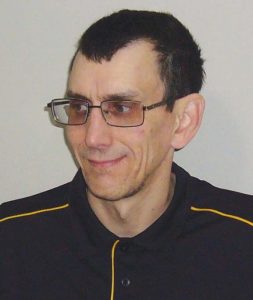 After more than 20 years' involvement in Special Olympics, Jason Gordy was recognized in 2015 as a nominee for the Dr. Frank Hayden National Special Olympics Athlete Lifetime Achievement Award. That same year, he received the Ontario Special Olympics Athlete Lifetime Achievement Award. These honours reflect the devotion, effort, and determination which allowed Jason to win so many medals in a variety of sports.
Born and raised in Norfolk, Jason graduated from Waterford District High School in 1992 with the Exceptional Student Award. Shortly after that he began his involvement in Special Olympics at the community level.
By 1994 he was participating at the provincial level in Swimming, winning gold medals in 1994 and a silver in 2000. In Track and Field, Jason won two gold in 1995, and two gold and one silver in 1997. A team bronze for Softball followed in 2005, and two gold and two silver for Five Pin Bowling in 2012.
Jason also competed in Floor Hockey at the provincial level in 2011 and 2014. In addition to all these achievements, in 2012 Jason was inducted into the Etobicoke Sports Hall of Fame as Ontario Special Olympics Male Athlete of the Year.
At the National level, Jason won silver twice and bronze once in Track and Field in 1994. He qualified for Nationals in Track and Field in 2001, and in Floor Hockey in 2011. In 2014, Jason won a team gold and an individual silver in Five Pin Bowling.
While still a participant in multiple sports, Jason's focus has moved to coaching. His dedication and positive, supportive approach have earned him the respect and loyalty of the members of his swim team.
A familiar face at the Law Enforcement Torch Runs for many years, after his induction Jason planned to continue with his community involvement through coaching, and his promotion of Special Olympics with the support of his corporate sponsors. In these efforts, Jason will continue to exemplify the true spirit of Special Olympics and sportsmanship—honesty, and respect and empathy for opponents, coaches, and officials.