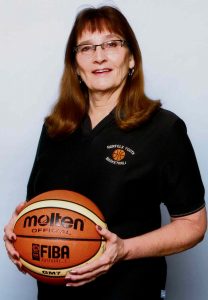 Jean Montgomery has always loved basketball. She was Captain and MVP at Tecumseh High School in Chatham as well as at Fanshawe College.  Since then she has been dedicated to encouraging boys and girls to play basketball.
Jean has been a respected coach and referee in elementary and high schools for years, and was selected as referee for OFSAA Girl's Basketball Finals in 2012.  She is also an award winner as one of Basketball Ontario's Outstanding Coaches.
For the 20 years prior to her induction, Jean was deeply involved with the Norfolk Youth Basketball Association (NYBA) as a coach of various girls' and boys' teams, and had served as President since 1995. Many consider her to be a key person in the NYBA's growth. Jean loves the kids and it shows. Her influence with them goes beyond the game, as they not only develop on the court, but also grow in confidence.
In the fall of 2014, Jean and Cody Mummery started a new program under the NYBA called "Step Up Your Game". They had noticed a lot of high-school-aged boys who had talent and would benefit from a program with a strong focus on skill development.
Jean didn't forget the adults though. The NYBA also had Adult Pick-up Basketball which she helped with for three years so adults could have fun and remain active in the game.
Jean, along with Bill Makovik, co-founded the M&M Basketball Camp for youth in Norfolk County. The camp is still running as of the time of Jean's induction. The kids enjoy themselves and receive great instruction, encouraging many to continue to participate in NYBA and high school basketball.
Jean's approachable and encouraging personality is the key, and she has strong motivational and leadership skills. She knows how to keep the kids interested and having fun, and is able to get the parents involved as instructors or by encouraging them to become certified coaches, some even at the provincial level!
In addition to all of this, Jean Montgomery was recognized as a community volunteer outside of basketball. She has been recognized by the Children's Aid Society, the Resource Centre, Norfolk County and the Council for Exceptional Children, has received a Medal of Appreciation from the Government of Canada, and is also a recipient of the Paul Harris Fellow Award from the Rotary Foundation.
Jean has coached so many ages and levels, from five-year-olds to the Under-19 athletes, in schools, house league, clubs and just for fun.  Jean is respected as a truly genuine person and her dedication to youth basketball has set a very high standard for others to follow.