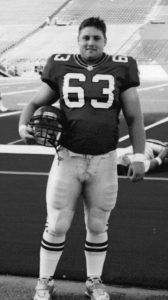 Following a successful stretch with the Simcoe Composite School football team, during which he won MVP, Merrick became a five-year starter on McGill University's offensive line, twice earning first-team All-Star honours in the former Quebec Football Conference. He helped the squad win a pair of conference titles, was named the most valuable lineman in 2003, and was chosen a first-team All-Canadian a year earlier.
On the track, Merrick became the province's university shot-put champion in 2003 and competed at the national championships that year, finishing eighth.
Merrick was chosen 37th overall by the Saskatchewan Roughriders in the 2003 CFL Draft, eventually suiting up for the Tiger-Cats the following season.
After his playing career, Merrick returned to the area and began coaching high school football. He helped guide the Waterford Wolves to Haldimand-Norfolk Bowl titles in 2008, 2010 and 2013. His overall record as a head coach was a stellar 28-3 and those losses were by a total of just five points.
At the time of his induction, Merrick was vice-principal at Paris District High School, where he hoped his career might serve as motivation to the current crop of youngsters dreaming of making it to the pro level. "We all have the ability for improvement and for greatness, sometimes the issue is understanding how to get there," Merrick noted.
Becoming a member of the Norfolk County Sports Hall of Recognition is significant in itself, but the timing of Merrick's induction made it all the sweeter. Inducted along with Merrick at the 2019 induction ceremony was Jim's good friend and former teammate, John Macdonald. Merrick and Macdonald competed alongside one another with the Simcoe Sabres, McGill University, and the 2004 Hamilton Tiger-Cats squad.
"John was certainly a mentor for me and taught me lots about what it takes to push yourself and become a better football player and what it takes to get into university," said Merrick. "It seems fitting the two of us would be going in together and it's a huge honour to go in with John because of all the guys I played with, he's one of the best and certainly deserves to be going in, for sure."