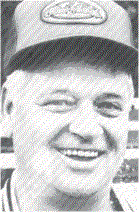 You could say that John Black lived sports.
It didn't matter what the competition was, as long as he was moving and was in the thick of things, John was having the time of his life.
John won swimming and diving medals as a youngster. At one time, he was one of the youngest Award of Merit holders in the Red Cross swimming program.
John played football and was invited to a Hamilton Tiger-Cat camp. He played softball (Peewee finalists in 1952, Midget semi-finalists a few years later.) He played hockey (Peewee finalists, Bantam championship twice and Midget championship).
He placed second in the Central Western Ontario Secondary School Association (CWOSSA) 110-yard dash, with a time of 10.5 seconds.
He also played golf and squash and excelled in both.
John played Junior B hockey in Woodstock and Junior C in Simcoe. He went on to intermediate hockey in Port Cover, contributing to a B championship, and also played some memorable games in Simcoe. Later, he played old timer hockey with a band of Simcoe enthusiasts.
John helped organize a men's league in Simcoe and was part of 10 championship teams in that league.
He coached four years of minor hockey in Simcoe, handled five different softball teams and topped off his coaching glory by guiding a junior team to Ontario championships in 1988 and 1989.
A supporter of local sports as well as an athlete, John also dug deep into his pockets to help sponsor youth darts, softball and hockey for many years.