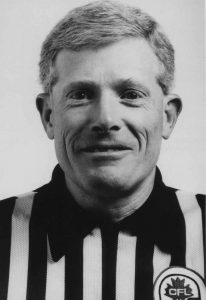 John "Jake" Ireland started his sports career in Burlington during high school where he was active in basketball, cross-county running and curling, as well as Student Council. He moved to Simcoe in 1979, and continued his involvement in sports.
At the time of his induction to the Sports Hall, Jake had been a member of Simcoe Curling Club for over 30 years, serving as president and director. He volunteered to co-ordinate and administer the Club Championship for 30 years, and ran numerous bonspiels, as well as convening the Monday night senior curling league for many seasons. Jake also led several teams to championships representing Simcoe Curling Club.
Despite his curling prowess, Jake is best known for his career in football officiating. While a student at McMaster University, Jake was asked by a friend to officiate flag football for the newly created Burlington Minor football Association. Soon he was asked to officiate for the Lakeshore Football Officials Association, which included refereeing games for Burlington Braves Club. It was during one of these games that Jake was recruited by the Canadian Football League as a referee.
In 1976, Jake joined the "stick crew" at Ivor Wynne Stadium in Hamilton. In 1979 he was moved to the officiating crew and served as Head Linesman for 3 yrs, then became a Back Judge for a year before starting as Referee in 1983. Jake continued as a CFL referee until the end of the 2008 season. During that time he participated in 557 games and in 15 Grey Cups including 12 as referee.
In June 2009 Jake became the CFL Lead Replay Official for the Replay Command Centre.
In 2011 the CFL introduced position coaches to the officiating staff, naming Jake to the position of Referee Coach.
At the time of his induction, Jake was still involved with the Lakeshore Football Officials Association, officiating 3-4 high school games per week, as well as games for the Ontario Varsity Football League. He usually worked as a linesman, where he could coach and advise younger officials. He was also a frequent presenter at national, provincial, and local clinics for the Canadian Professional Football Officials Association, as well as the Ontario and local levels.
Jake summarizes the value of his officiating role by saying, " I have the same attitudes regardless of the level of football that I'm doing—a high school game or a minor game. I approach the game the same way. Every game you officiate may be the most important game of somebody's life, either a coach or a player. For a young kid, it might be the only game he ever scores a touchdown, or it might be the only championship game he ever plays in, or it might be the highest level he ever plays in. So, you owe it to him, to give 100% regardless of the level."