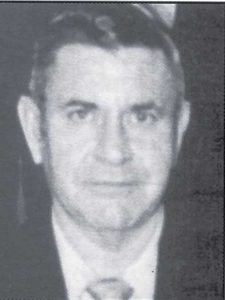 John Hamilton Leask was described as "a gentleman who exemplified sportsmanship." Respectful to all, he had a generous spirit, and was devoted to sports.
Born in Caron, Saskatchewan, a twin son of Norfolk County natives Grant Leask and Eva Madden, John was raised in Fort Erie, where he was active in local baseball and hockey, and an executive member of the Ontario Baseball Association.
John was a goal judge for the Buffalo Bison of the American Hockey League 1960 to 1970, and in 1970 became the official scorer for the NHL's Buffalo Sabres.
John moved to Simcoe in 1965 and was an executive member of the Simcoe Minor Hockey Association until he became house league chairperson in 1966. He managed the Simcoe Chargers Peewee team that competed in a special tournament at the Canadian National Exhibition and made it to the Ontario Baseball Association championship.
In 1967, John was elected both President of the Simcoe Minor Hockey Association, and a Director of the Ontario Baseball Association. He also managed the Simcoe Giants Intermediate baseball club to an Ontario title.
In 1968, he continued with the Intermediate club, was elected Third Vice-President of the OBA, and was a member of the Southern Counties Baseball executive. In 1969, he was re-elected to the OBA and managed the Giants to another Ontario title.
John received a certificate of merit from the Ontario Amateur Hockey Association, and an award from the Canadian Amateur Hockey Association for 25 years of volunteering.