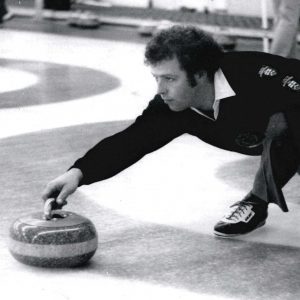 You'd be hard-pressed to find someone in Norfolk more dedicated to the game of curling than John Lotus. The Simcoe native picked up the sport at a young age and never put it down.
"My parents used to curl in Brantford when I was young and then we moved to Simcoe and joined the club here," he said. "That kind of got me interested in it, [that] and a few family bonspiels, we had high school tournaments all the time [too]."
Lotus has been a local curling ambassador for over 45 years. He curled competitively for many years, travelling to many bonspiels and bringing home championships.
As a former member of both the Brantford Curling Club and Simcoe Curling Club, there were times when Lotus curled every night of the week. John was a member of two provincial championship teams with Simcoe Curling Club, winning competitions in the Colts (1982) and Governor Generals (1987) categories.
After his playing career, John coached his daughter Amy's high school team, then got involved in coaching a team of visually impaired curlers from Norfolk who went on to win provincial and national championships. He also served as the guide for a local golfer, Jim Simmons, who won the Ontario Visually Impaired Senior Men's Golf Championship in 2011, 2013, and 2015.
Lotus cultivated his coaching style thanks in part to his wife Donna. Having spent plenty of time behind the glass, Donna was an expert observer. "Curling isn't like hockey where you can yell and scream, back then it was more of a real gentleman's sport," Donna said. She encouraged John to take notes during games and go over various points after the match.
One of the main things Lotus imparted to his players was the way to approach a shot. "There's a good way to miss and a bad way to miss usually," he said. "That's very important, it keeps your mind in the game all the time." It's that kind of wisdom that helped Lotus lead his visually impaired curling team to multiple titles despite some members being relatively new to the game.
"That was great—I liked to watch them improve and I'm pretty sure they were improving on me too because there was a lot of learning going on," he said. "It was a great time and we had a lot of fun."