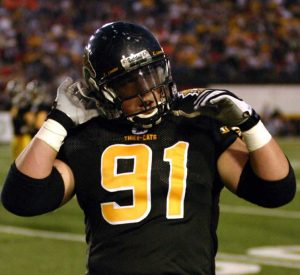 After capturing best lineman for the Simcoe Sabres football team three times and winning MVP in 1996, John Macdonald enjoyed similar success with the McGill University varsity football program. He won the Willie Lambert (most dedicated) trophy twice.
Macdonald was also named the team's Most Valuable Lineman in 2001. In the 2002 CFL draft, the Hamilton Tiger-Cats took Macdonald 7th overall. He played for Hamilton from 2002-2004.
For as much as Macdonald accomplished as an athlete, he takes just as much or more pride in his coaching endeavours. He's been part of several football programs in Norfolk and beyond, currently with Pauline Johnson Collegiate in Brantford where he serves as the head of the English department.
John led a squad to the Ontario Women's Field Lacrosse U-11 championship in 2017 while also getting involved in both rugby and hockey. He serves as a personal trainer in the Pauline Johnson SOAR program designed to support aspiring elite athletes.
"Sport has to be a part of your life," he said. "My kids and everyone involved in sport need to understand that it's the character attributes, the team building that makes it so great . . . I don't stop coaching all year and in a way, I feel like my experience as an athlete is helping me more in the classroom and as a coach than it ever has personally."
Each and every one of the coaches Macdonald had as a kid, he said, helped get him to where he is now. These days he can turn on the TV and watch one of three former area high school athletes who now play in the CFL. "It's more exciting for me seeing them have success than it was in hindsight my own career," he said. "That's the ultimate, seeing those guys succeed, seeing those guys move on and mentoring them through texts, through messaging, through little chats and things like that—that's amazing."
Macdonald hopes that his induction can motivate other Norfolk County kids who may not have found a home at the rink to pursue other opportunities. He notes that as a child, his body type didn't fit the typical hockey mold. "I was a good athlete but my skill-set worked better on the football field . . . I took a lot of pride in the fact that I could excel in a sport that was not seen as a Norfolk powerhouse," says Macdonald. "There are opportunities to have success in sport. Football is great for that, it's one of the few sports that utilizes many different types of athletes."