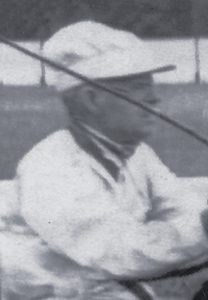 Harness horse driver Michael John "Johnny" Mullin campaigned for several decades over dusty, muddy, and ice-covered tracks in Canada and the United States.
A native of Goderich, Ontario, Johnny won multiple victories behind Billy Bishop—including one on ice at Toronto in 1922—at the peak of his career in the 1920s.
On June 13, 1930, Mullin was part of a historic race at the Chatham Fairgrounds. That was the night Chatham's track became the first in Canada to race under lights. Johnny sped to a track record of 2:09 ¾ seconds that evening before 5,000 fans.
He also set a track record 208.4 in Hagersville with Peck Abbe, according to his son, Ben, who attended his father's induction. This record still stood when the track closed.
Johnny's racing career was capped by a second wave of winning performances after he relocated to Norfolk County in 1940. He and Billy Stout won the Canadian Trotting Derby in Grand Valley in the late 1940s.
Johnny displayed a lifetime of racing skill while competing at the Norfolk County Fair in 1955, to the applause of hundreds of admirers.