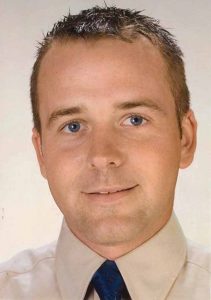 Though Simcoe's Kris Walleyn was born with just 50% of his hearing, that didn't stop him from being active as a child. From age four, Kris played rep softball and rep hockey every year in Simcoe.
At age 13, Kris decided to concentrate more on hockey and played summer hockey in Norwich.  His coach recommended him for the OMHA Under-17 camps. Deciding to play in the junior system, Kris played a few games for Simcoe Storm Junior C and Norwich Merchants, but spent most of his time in the Junior D league playing for Langton Thunderbirds and Delhi Travellers.
In September 1996, Kris received a hockey scholarship for South Kent Prep School in Connecticut. He scored the overtime goal in one game to deliver his school's third victory over their arch-rival.  While at South Kent, Kris also excelled in cross-country running and was the second junior in the 75-year history to earn cross-country MVP honours.  Kris was the first runner from his school to be named an HVAL all-star and qualify for the New England Open, ranking third among runners from Division 1 schools.
Due to a family illness, Kris withdrew from the school and returned home. While attending Simcoe Composite School, he won the NSSAA Boy's Cross-Country title.
Kris was offered a few hockey and cross-country scholarships to universities in the United States but decided to try pro hockey in Europe.  At the age of 19, he left home to play in Belgium's elite hockey league playing for the Leuven Chiefs, and had the opportunity to play in the European Cup. He played one more year for Hasselt Huskies of Holland. After suffering a concussion, Kris decided to return to Simcoe.
Kris was immediately approached by the Ontario Deaf Hockey Association to play in a Canadian tournament in Winnipeg. The team returned with the silver medal. The following year he was asked to play for the Canadian Deaf Hockey Team in the 15th Deaflympic Winter Games in Sundsvall, Sweden.  Kris made the team and played against Russia, Sweden, Finland, Germany, and the USA. Kris and his teammates defeated the US in the final game of the tournament with a score of 5-3 and came home with the gold medal.
Kris was a member of Simcoe Lions for seven years, and coached hockey for a few years, but decided he wanted to help other athletes reach their dream. At the time of his induction, Kris owned "AK Sports Management," which found American college placements for athletes who wish to pursue that avenue. He was also player agent, part owner and director of Major Junior Hockey Operations at "The Hockey Group" in Woodstock. Ontario.