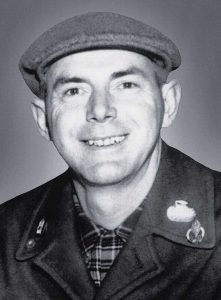 Dr. Leonard Mason is among the top all-around athletes ever to come from Norfolk County. Born in Townsend, and educated at Simcoe High School and the University of Toronto, Mason returned to his roots in 1938 to practice dentistry and to spend his retirement in Simcoe.
It was at Simcoe High School that Mason's outstanding track and field career began. In 1927 Mason recorded the top scores in high jump, shot put, standing broad jump, triple jump, pole vault and relay. He was the school's junior track and field champion in 1927 and the senior champ in 1931.
While attending the Faculty of Dentistry at the University of Toronto, Mason was the high jump champion in 1932, 1934, 1935 and 1936; the shot put champion in 1936; and an important member of the 1934 relay team.
Mason did not limit his talents to track and field. He was a catcher, first baseman, coach, manager, and president for many years in the Simcoe Softball League. He played hockey, and won the light-heavyweight wrestling championship in the Faculty of Dentistry at U. of T. He played soccer and won a silver medal with his rifle, again at U. of T.
Mason was an avid curler and in the 1950s, he held the record for five-pin bowling with a high triple score of 949. He was an accomplished golfer and a member of the Norfolk Golf and Country Club for 55 years, where he recorded two aces.
Mason did not confine his skills and enthusiasm to the playing fields. He was a founding member of the Simcoe and Area Sports Hall of Recognition, president of the Simcoe Curling Club, captain of the Men's section at NGCC, and coach and manager of many local softball teams.