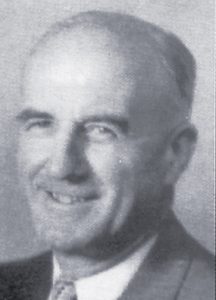 For almost 30 years, until his death in 1959, Les Rundle spent days, nights, and weekends helping local sport enthusiasts realize their dreams. As a youth, Les played basketball, softball, cricket, and baseball. As an adult, he coached, managed, and officiated.
Les organized the Norfolk Umpires' Association in 1938 and served as Honorary President and Umpire-In-Chief. He was President of the Intercounty Umpires' Association, and officiated in the Intercounty Senior League for many seasons. He served on the Ontario Amateur Softball Association's Rules Committee.
As founding President of the Norfolk Baseball Association, which eventually became the Southern Counties Baseball Association, Les conducted baseball courses for elementary school students.
Les volunteered countless hours as a basketball coach, and organized leagues for boys, girls, and adults. He officiated at the high school level throughout the area.
When not on the basketball court, Les was at the Simcoe Arena as goal judge or chief timer. He assisted with the formation of the Norfolk Referees Association and was Referee-In-Chief for awhile. He organized the Simcoe Sunday School Hockey League during World War II, and served as its president.
"He loved sports, he loved working with people and teams. He loved being involved with people who loved sports. When his playing days were behind him, he saw a need and he filled it," Les's daughter, Muriel Dennis, said of her father's participation.