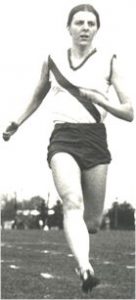 Marg MacGowan, as she was known in high school, will be forever remembered for her blazing speed on the track.
An impressive career that took off at Waterford District High School from 1968-1972 soared to new heights at the British Commonwealth Games in 1974 in New Zealand when Marg ran in the 200m and her team won bronze in the 4x400m relay.
While at Brock University, Marg competed successfully and impressively in intercollegiate meets and was rewarded for her efforts by being named Female Athlete of the Year in her third and fourth years there. In 1996 she was inducted into the Brock University Hall of Fame.
Marg excelled at the World Masters meet in Finland in 1991 where she won the 400m and finished third in the 100m and 200m.
Marg has a list of honours from her high school days. She won several individual championships and held numerous records. For all five years she was CWOSSA champion in her division. In 1973, as a Senior, she won the 100m, 400m and long jump to be named the Outstanding Athlete at FWSAA. In 1970 she was awarded the George Downing Memorial Trophy as Norfolk's Athlete of the Year.