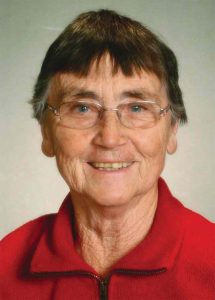 Margaret Stephen's legendary athletic career began in North Bay where she excelled in every sport she tried. And, it seems, she tried them all.
Look up an alphabetical listing of sports available to women at the time, and you will see the sports she dominated – basketball, bowling, broomball, alpine and cross-country skiing, softball, track and field, and volleyball are some of the sports in which she excelled for many years.
Marg's exceptional talent was evident in all the team and individual sports she played. Her resume is filled with regional and provincial championships. She dominated high school sports and was still a formidable force years later when, in 1962-63, she won the Ontario Senior Women's Cross-country Ski Championship.
It's not just the variety of sports that is impressive but so too is the sheer dominance of her performances over so many years. Circumstances beyond Marg's control prevented her from being a member of the Canadian Olympic ski team. Perhaps if she had not been female, and could have paid her own way, she could have been on the Olympic podium.
The prospect of a job teaching at Port Dover Composite School brought Marg to the Waterford area in 1975 and thus began a new phase of excellence. Marg immediately distinguished herself as an elite coach and a talented and dedicated organizer and promoter. PDCS won numerous NSSAA, CWOSSA and OFSAA championships under her guidance. Marg did the ground work to have A Division school volleyball sanctioned and made available to smaller schools with fewer than 700 students. She donated the first championship plaque with space for 32 champions.
Marg continued her playing career while coaching high school sports. She was famous for her skill as a shortstop in women's fastball. She was quick, had marvelous hands, a strong arm, was a good batter and had speed on the base paths. Along the way her teams picked up a couple of provincial championships.
Broomball was another passion. She played for many years in North Bay and in 1982, while living in Norfolk, she started an inter-county ladies' broomball league.  Along the way she was league president, ran regional tournaments, won some championships, won some scoring titles and was league MVP a couple of times.
Marg had all the qualities of a great athlete, coach, referee, umpire and organizer: longevity, talent, dominance, versatility, passion, dedication, and leadership.
In 1983, Marg was inducted into the North Bay Hall of Fame and in 2000, the 75th anniversary of North Bay, she was recognized as one of its top ten female athletes.