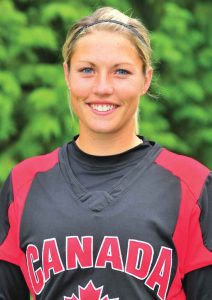 Port Dover's Megan Timpf showed her athletic side as a youngster, demonstrating talent in both figure skating and softball, but it wasn't long before she realized her true passion was softball.  This feeling was encouraged when her team won the Ontario Rural Softball Association Championship in 1996.
Megan played four years for Oakville followed by a year with the Whitby Eagles where she competed at the 2003 Canada Cup.  She also played for Scarborough and Brampton.  It wasn't long before she caught the eye of coaches from the NCAA Universities in the United States and was offered a scholarship at the California University of Pennsylvania.
In 2005, Megan attended a tryout for the Canadian National Team and was selected for Team Canada Elite, the development team, competing in two Canada Cups. In 2007 Megan was selected to be a member of the Canadian Senior Women's National Team.  They won silver at the Pan American Games in Brazil that year.  That same year she won gold at the World University Games with Team Canada.
Megan's softball success continued in 2008. While representing Canada, she continued her studies and represented her university, earning multiple all-conference honours as well as being team captain, but perhaps, more importantly, she realized her dream and was named to the Canadian roster for the 2008 Beijing Olympic Games, where Canada finished fourth in womens' softball.
Megan graduated with a Bachelor of Science in Education, on the Dean's List, that same year.  Following this, she went to Indiana University of Pennsylvania for her Master's Degree, and worked as a Graduate Assistant Coach until she graduated in 2010, after which it became a full-time coaching job.  She spent two years as Assistant Coach where she helped the team to the school's first Conference and Regional Championships, as well as the first College World Series appearance. She and the coach, Bill Graham were named Atlantic Region Coaching Staff of the year.
In 2009, 2011, and 2013 Team Canada again took the silver medal at each of the Pan American Games. In 2012, Megan played in the International Softball Federation Women's Championship. In 2013 the Canadian Olympic Team named her one of the team captains.
In 2012 Megan became Assistant Coach at Barry University in Florida.  She stayed for two years but then had an opportunity to move to the University of Nevada Las Vegas which is a Division 1 school.
The summer of her induction into the Sports Hall, Megan was slated to play for Team Canada at the Pan American Games, on home turf at the venue in Ajax, Ontario. Megan and her teammates won the gold medal, defeating the United States in the championship game.