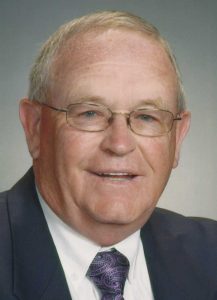 A food advertisement several years ago stated "Give it to Mikey, he'll eat anything."  A local saying could be, "Give it to Mikey, Mikey will do it."  That would be Mike Bollert!
For some 40-plus years, Mike Bollert has demonstrated, with much success, his assets as a builder, not only in Norfolk County but in a wide geographical area within Ontario.  He has always believed in the local community and this interest and knowledge has impacted the lives of many local people, both young and old.  He could be found supporting several venues on the same day mixing with youth and their parents, many whom he had coached or mentored throughout his career.
Mike served as a  leader in Junior Hockey as a coach, trainer and General Manager. He spent time as the General Manager of Operations with the Norfolk Rebels (Port Dover Sailors) most recently prior to his induction.  Mike also worked in a similar capacity with Junior hockey teams in Simcoe for 22 years, Waterford for three years, and Hagersville for three years.
He was nominated in 2008 for an Ontario Volunteer Service Award and received a 40-year certificate for his years volunteering in hockey in Norfolk County.
Mike was also involved in creating two organizations that addressed under-serviced populations. The first was the South Coast Special Needs Kids group, which was formed to assist children with special needs. This group enabled children of all abilities to play sports including baseball, sledge hockey, basketball, bowling, and golf. Secondly, Mike loaned his organizational abilities to help start the girls' hockey program in Norfolk, known as the HERicanes.
For the 40 years leading up to his induction, Mike was one of the longest serving Board members for the Norfolk County Fair and Horse Show. His role of chair of the Grounds and Building committee has allowed him to recruit many sports teams to manage the off-site parking and gates at the Fair.  This gesture in turn helped many teams raise much-needed funds for their organizations.