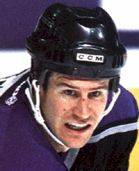 Nelson Emerson's hockey talents emerged while he was in the Waterford minor hockey system, continued through an outstanding career with the Stratford Junior "B" team, exploded at Bowling Green University, and continued to impress in the International Hockey League and National Hockey League.
In nine seasons with Waterford Minor Hockey, Emerson collected four championships while racking up impressive offensive numbers. In 1983 he was named league Rookie of the Year while playing for Stratford. In 1985, while still playing Junior "B", he was drafted in the third round, 44th overall by the St. Louis Blues. From there, it was on to Bowling Green University from 1986-1989 where he was the first CCHA all-time leading scorer and placed sixth on the NCAA all-time scoring list.
Nelson was the first-ever three-time finalist for the Hobey Baker Award as the top U.S. collegiate player. For his college exploits, he was inducted into the Bowling Green University Hall of Fame in 1996, and his Bowling Green sweater was retired in 1997.
With Peoria Rivermen in the IHL, in 93 league and playoff games, Emerson racked up 46 goals and 92 assists before joining the Blues. After St. Louis, he also played with Winnipeg, Hartford, Carolina, Chicago, Ottawa, and Atlanta before joining the Los Angeles Kings.
Emerson was a valued member of Canada's World Cup teams in 1992 and 1998, as well as in 1994, when Canada won the gold medal. Despite all of his impressive accomplishments, Emerson never forgot about his home town of Waterford, "Home of the Nelson Emerson Hockey Tournament."