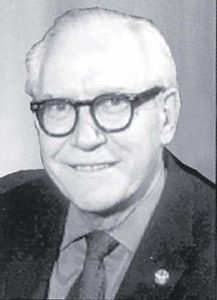 Otto H. King served many years on the executive of the Simcoe Softball Association, holding almost every office, including four years as Secretary and five years as President, 1941-45.
Otto was elected to the Ontario Amateur Softball Association executive in 1941. In 1945, he was elected the 14th president of the OASA, 1946-1947. He was also a special advisor to the Provincial Women's Softball Union from 1946 to 1949.
Otto was one of the people responsible for the installation of floodlights in Wellington Park, which made Simcoe the first town in Ontario to light its softball diamond. He followed T. C. McCall as Simcoe Reformer sports editor, and covered the local sports scene throughout the 1940s. In the 1950s, he was the Reformer's advertising manager.